AFCO Racing Shocks Named the Official Shock Supplier of USLCI HARRISBURG, N.C.
Friday, February 3, 2023
U.S. Legend Cars International and INEX have partnered with AFCO Racing Shocks, becoming the new supplier of shocks for all Legend Cars, effective immediately.
After an extensive testing period, AFCO shocks have shown an increased level of performance for all three racing disciplines. Whether driving on an asphalt oval, on dirt or a road course, drivers can expect an enhanced sense of drivability, improved traction, and more comfort.
AFCO shocks have a threaded body, are sealed, and are able to be rebuilt and resealed by AFCO. USLCI will offer them at four different valve rates, allowing for more setup customization. The four available valve rates (compression/rebound) will be 4/5, 3/3, 4/2, 2/4.
As each driver's needs may be different, USLCI and AFCO will be able to recommend shock setups based on your racing preferences.
Pricing for shocks and shock kits will be as follows:
AFCO Shock 4/5 Valve – $210
AFCO Shock 3/3 Valve – $210
AFCO Shock 4/2 Valve – $210
AFCO Shock 2/4 Valve – $210
AFCO Shock Coil Over Kit – $39.99
Presently, there are no changes planned to the Bandolero.
If you have any questions, please contact Kyle McGowan by phone, 704-455-1425, or email, [email protected].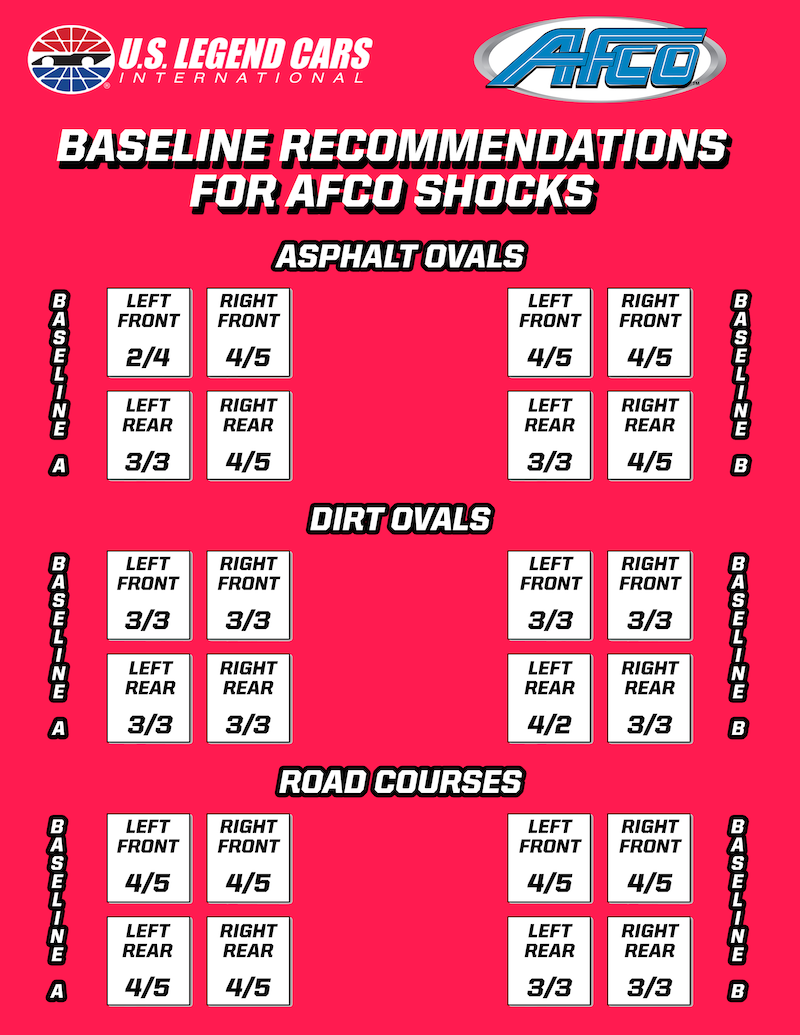 ---
About US Legend Cars
U.S. Legend Cars International is a leader in motorsports entertainment. With the mission of creating a space where the art of racing is accessible to everyone, U.S. Legend Cars has created an extensive network that includes dozens of dealers across the United States and the entire globe equipped to accommodate any driver's needs. U.S. Legend Cars International uses only the best parts and accessories in the industry to give drivers high quality cars and experiences out on the racetrack. Further information about U.S. Legend Cars International can be found at www.uslegendcars.com.
FOLLOW US:
Be sure to follow U.S. Legend Cars to keep up on the latest news and events on Twitter (@USLegendCars), Facebook (@USLCI), and Instagram (@uslegendcars).
USLCI/INEX Media Contact
Josh Roller, [email protected]